Skip to main content
Electro-Mechanical Assemblies employ both electrical and mechanical components to perform an array of functions, such as; Power Generation in Electric Motors, Control systems (panels or various switches) as well as perform power enhancing mechanical operations. Phoenix Dynamics manufactures Electro-Mechanical Assemblies and can support production of fabricated enclosures, sub-system assemblies, testing and manufacturing through to the final product. This goes hand in hand with our core wiring capabilities. 
Our team of Engineers can assist you to improve production, from Design to delivery, whether for an initial Design concept or current large volume products and provide cost effective assembly solutions.  With the latest 3D printer technology and in-house capability using advanced CAD systems, we can create rapid prototypes ensuring you stay on target with your project.
Quality is at the heart of our company and our manufacturing facility is configured to provide excellent product mechanical and electrical protection during all stages of manufacture. This includes the provision of ESD protected and soft surface assembly areas.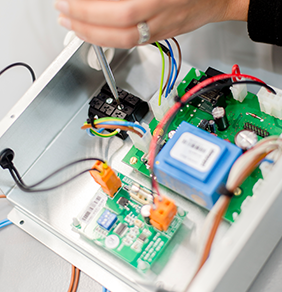 "Phoenix Dynamics can manage the entire supply chain..."
This service allow for customers to push the design envelope and gain advantages such as reducing cost, improving performance and achieving what was historically impossible.
We provide the engineers, the tools, the skills and the experience to deliver quick, effective and robust solutions into use.
Magnetic Interconnect System
The outline was to provide a cable and connection system for a Fuel Monitoring System that would link…